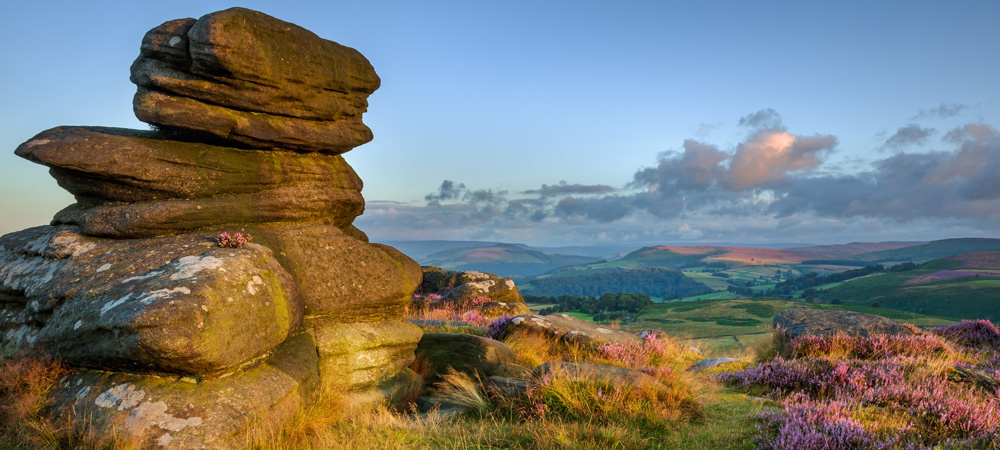 Discover the Enchanting Beauty of the Peak District National Park
Nestled in the heart of England, the Peak District National Park awaits, promising breath-taking landscapes, charming villages, and a plethora of outdoor adventures. Whether you're a nature enthusiast, an avid hiker, or simply seeking tranquillity in picturesque surroundings, this magnificent destination has something for everyone. Join us as we delve into the wonders of the Peak District, uncovering its captivating attractions and activities.
Marvel at the Majestic Peaks:
As the name suggests, the Peak District is renowned for its stunning peaks and rolling hills. Lace up your boots and embark on exhilarating hikes to conquer the likes of Kinder Scout, Mam Tor, and Stanage Edge. Reward yourself with panoramic views that stretch as far as the eye can see, and breathe in the crisp, refreshing air that invigorates your senses.
Explore Charming Villages:
Immerse yourself in the quaint charm of the Peak District's picturesque villages. Stroll through the cobbled streets of Bakewell, famous for its delectable Bakewell pudding. Lose yourself in the narrow alleys and stone cottages of Castleton, home to intriguing caverns and the imposing Peveril Castle. Discover the enchanting beauty of Eyam, known as the "Plague Village," with a haunting history that still lingers in its atmospheric surroundings.
Venture into Natural Wonders:
The Peak District boasts an array of natural wonders that will leave you in awe. Explore the subterranean beauty of Speedwell Cavern or marvel at the towering limestone cliffs of Dovedale. Don't miss the stunning vistas of the Roaches, a dramatic ridge offering breath-taking panoramic views. Engage in wildlife spotting and birdwatching in the tranquil setting of Ladybower Reservoir or the beautiful Upper Derwent Valley.
Delve into Rich Heritage:
Uncover the fascinating history and heritage of the Peak District through its impressive landmarks. Visit the magnificent Chatsworth House, an architectural masterpiece surrounded by sprawling gardens and parkland. Step back in time at Haddon Hall, one of England's finest medieval manors, with its well-preserved interiors and picturesque gardens. Explore the industrial heritage of the region at Cromford Mills, birthplace of the Industrial Revolution.
Outdoor Pursuits:
The Peak District is a playground for outdoor enthusiasts, offering a wealth of activities to satisfy your adventurous spirit. Go rock climbing on the gritstone edges, cycle along scenic trails, or try your hand at water sports in the sparkling reservoirs. Experience the thrill of paragliding or enjoy a peaceful hot air balloon ride, taking in the stunning vistas from above. With options for all ages and skill levels, the Peak District is an outdoor paradise.
Sample Local Delights:
No visit to the Peak District is complete without savouring its culinary delights. Indulge in traditional pub fare, relish artisanal cheeses and locally brewed ales. Treat yourself to a slice of Bakewell pudding or enjoy a comforting bowl of hearty Derbyshire oatcakes. Visit the local farmers' markets and artisanal shops to discover an array of delicious treats made with regional ingredients.
The Peak District National Park invites you to immerse yourself in its captivating beauty, from rugged peaks to idyllic villages, and from rich heritage to thrilling outdoor pursuits. Embark on an unforgettable journey through this picturesque landscape, where nature's wonders unfold at every turn.
Whether you're seeking adventure, tranquillity, or a blend of both, the Peak District offers a perfect escape. So, pack your bags, lace up your boots, and set out to explore the enchanting wonders of this remarkable national park. Let the Peak District cast its spell upon you and create cherished memories that will last a lifetime.