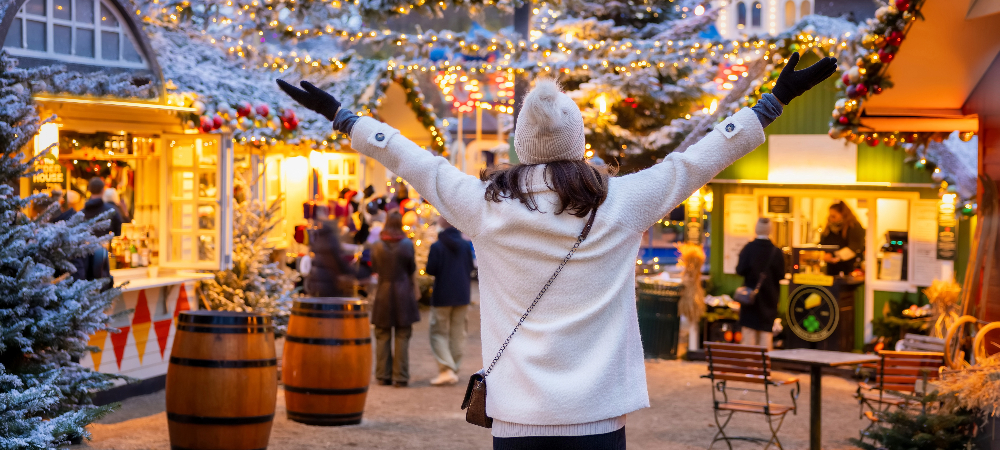 As the air turns crisper and the festive spirit begins to fill the air, there's no better way to experience the magic of Christmas than by embarking on a motorhome adventure to explore the enchanting Christmas markets. With your home on wheels, you have the freedom to roam from one twinkling market to another, soaking in the festive cheer, savouring delightful treats, and collecting unique gifts. Let's unwrap the magic of hiring a motorhome and embarking on a Christmas market journey that will leave you with cherished memories and a heart full of joy.
Unveiling the Christmas Market Trail:
Imagine waking up to the gentle hum of festive music and the scent of freshly baked goods wafting through the air. With a motorhome at your disposal, you can plan your very own Christmas market trail, visiting charming towns and cities that transform into winter wonderlands during the festive season. From the historic streets of Edinburgh's Christmas Market to the picturesque backdrop of Bath's Christmas Market, each destination promises a unique and delightful experience.
Additionally, consider staying closer to home and exploring the enchanting Peak District Christmas markets in Bakewell, Chatsworth, and Matlock. These local gems offer a wonderful festive atmosphere, and your motorhome gives you the flexibility to explore these Christmas Markets over a few days.
And for those seeking even grander adventures, Tripz.uk offers European motorhome hire, allowing you to embark on a journey to the spectacular Christingle markets of Europe. Explore the magical markets of Germany, Austria, and other European countries, where centuries-old traditions blend seamlessly with modern festivities. Your motorhome becomes your home on wheels as you crisscross Europe's winter wonderlands, creating unforgettable memories along the way.
Festive Delights and Culinary Adventures:
One of the highlights of exploring Christmas markets is undoubtedly the opportunity to indulge in a culinary journey like no other. From mulled wine and cider to hot chocolate, savoury snacks and sweet treats, each market boasts a delectable array of festive fare that will tantalize your taste buds.
Christmas Shopping Extravaganza:
The Christmas markets are a treasure trove of unique gifts, handcrafted ornaments, and artisanal creations that make for memorable souvenirs or thoughtful presents. Wander through the market stalls, discovering treasures that capture the essence of the festive season.
Flexibility and Festive Freedom:
The true magic of exploring Christmas markets by motorhome lies in the flexibility it offers. You have the freedom to tailor your journey, choosing the markets that resonate with you and setting your own pace. Whether you're drawn to the historic charm of York's St. Nicholas Fair, the vibrant energy of Birmingham's Frankfurt Christmas Market or Frankfurt's own Christingle Market, your motorhome allows you to immerse yourself fully in the festive experience.
This festive season, unlock the door to a world of festive enchantment by hiring a motorhome and embarking on a Christmas market adventure across the UK. With the freedom to explore, indulge, and create cherished memories, you'll discover a new level of holiday magic that can only be experienced on the open road. Let Tripz.uk be your guide to a heartwarming journey filled with twinkling lights, joyful laughter, and the spirit of the season. Happy travels and a very Merry Christmas!